Grow+ Solutions
Change Management
The world is constantly changing and at a rapid pace. Sooner or later, every organization reaches the point where things need to be tackled differently. Individuals and organizations are generally not focused on changing. Many people want change (from others) but changing themselves remains difficult.
It takes special qualities from an entrepeneur, board member or director owner to remain constantly focused. Making the click that something has to change is difficult, even though the signals are clear. Organizations that have ever had a successful phase, may still have the perception that they are doing well, while that is not been the case for a long time.
If you, as an entrepreneur, wait too long to innovate, customers may have chosen a different solution. Every company wants to avoid the so-called 'Kodak moment'.
When is change management useful?
If the collaboration between key stakeholders no longer 'works'
If the skills of stakeholders fail
If important stakeholders differ in opinions about the direction of the company. For example, after a business transfer within the family
Change processes are often complex
Every organization has to do with its own learning curve. Falling back, adjusting and starting over, it's all part of it. Every organization has the capacity to change. Why do so many attempts to successfully change, fail? Certainly because change, often leads to resistance. In order to change, factors must be adjusted at both individual, team and organizational levels. Processes, systems, organization, structure, functions, people and their behavior, so many factors must be taken into account.
What have you been running into for a while?
Something needs to change to make my organization more successful, but what?
How do I implement the changes that I know are inevitable?
How do I get the staff on board?
How do I get management on board?
How do I get all other stakeholders with their noses in the same direction? In other words, motivated and even enthusiastic?
What do I have to take into account when implementing changes?
When is change ready?
Change management by Grow+
Good management is required to manage and implement changes successfully; change management. Grow+ helps you to answer all the questions mentioned, and to guide the implementation of the necessary changes. Then, Grow+ assists in assuring changes in the organization. Grow+ always implements customer-driven change processes in close collaboration with employees.
During change management processes, Grow + uses various proven methods, such as the method of John P. Kotter; Leading change.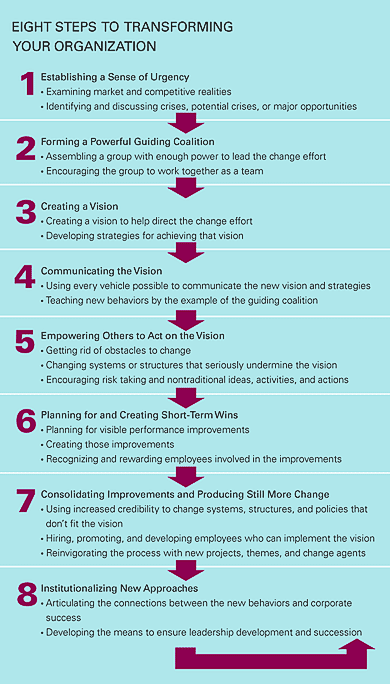 More general information about change management and other solutions offered by Grow+ can be found below change management.
Grow + is happy to relieve you. So please contact us!
The Kodak case study shows what can go wrong if you miss the boat. Lucas, H. C., & Goh, J. M. (2009). Disruptive technology: How Kodak missed the digital photography revolution. Journal of Strategic Information Systems,18, 46-55. The Kodak case study is also described in Harvard Business Review